Friday the 13th: The Game being delisted from shops in December
We may receive compensation if you make a purchase after clicking one of our links. See what we allow in our articles.
Will be accessible for at least another year of gameplay.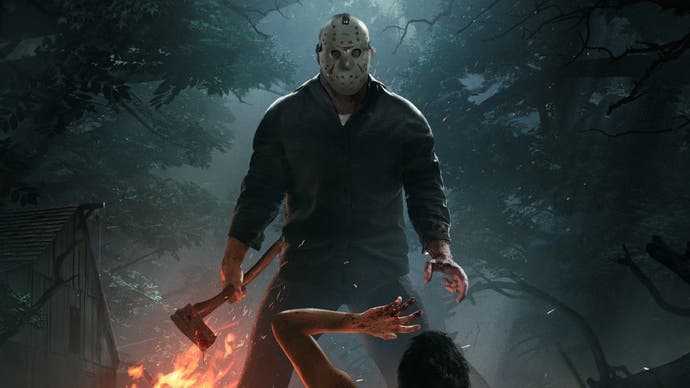 Friday the 13th: The Game, Weapon Interactive's unbalanced multiplayer scare title, will be discontinued on December 31st, the same day the developer's Friday the 13th licence expires.
Although it got off to a shaky start, Friday the 13th: The Game has been available since 2017 and has now proven to be a consistently entertaining and financially successful scary experience. Dedicated servers for the game were shut down in 2018 due to a dispute over who owned the rights to the Friday the 13th brand, and in 2020, Gun announced that it was returning to the game's original peer-to-peer networking model.
Without any fresh material since then, every Friday the 13th: The Game has been somewhat under the radar, but now Gun has confirmed — in a statement released on Twitter — that the game will no longer be available to purchase, either digitally or physically, once its licence expires on December 31, 2023. But the developer has promised that the game would be accessible to players until at least December 31, 2024, so there's that.
Gun has announced that from now through December, Friday the 13th: The Game will be discounted from $14.99 USD to $4.99 USD, with all downloadable content going for $0.99 USD. At the time of writing, it appears that the UK has not implemented these changes.
The developer wrote, "We want to thank our community for the devotion they've revealed to Friday the 13th: The Game and Gun Interactive as a whole, and we more than happy the video game will survive on for some time longer and continue to be enjoyed by anybody currently owning the video game."
While Friday the 13th: The Game is winding down, Gun isn't giving up on the unbalanced horror genre just yet; on August 18th, the designer's similarly styled The Texas Chain Saw Massacre video game will launch for PC, PlayStation 5, Xbox Series X/S, and Game Pass.


Add to favorites